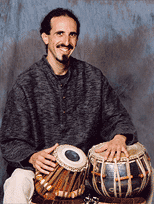 Gabe has studied music with two of India's finest tabla masters. He began his tabla studies in 1993 at the Ali Akbar College of Music in San Rafael, California under the guidance of Pandit Swapan Chaudhuri of the Lucknow Gharana. At this time Gabe was an off-campus student at Goddard College, receiving a degree in Tabla Composition in 1995. Since 1997, Gabe has continued his musical training with Pandit Samir Chatterjee of the Farrukhabad Gharana. In 2002, Pt. Chatterjee and Gabe performed the Ganda Bandhan ("thread-tying") ceremony which formalizes the relationship between guru and disciple.
In Hindustani classical performances Gabe has been featured as both a soloist and an accompanist, and over the last several years has participated in various world music ensembles. He is a founding member of the group 35th Parallel, performing a style of music they call "MediterrAsian jazz".
Gabe is dedicated to spreading knowledge of the tabla and Hindustani classical music throughout New England. He teaches regular classes in Burlington, VT and Hampton Falls, NH and gives performances throughout the region.